Newsletter for Sunday 22nd May 2016
Gardening at Church
All who have a green thumb or would like to have one, please come along on the 28th of May between 9 and 11 am to do some weeding, cleaning the car park , some minor pruning and depending on the weather some hand watering. For more information contact Lyndon 8336 5353
Canned soup
We are re-commencing our donations of canned soup, these go to Uniting Communities who distribute them to those in need.  Maybe pop an extra can of soup in the trolley next time they are on special.  Please leave any contributions at the back of the church.
Stay & Play
We hope Stay and Play went well last week.  Gavin Fairbrother and Petrea from the Campbelltown Council, are hoping to visit us at Stay and Play on 21st June.  Hopefully they will be able to stay after 11-00am to have a good chat about our ideas for the Children's Wirra.  Any of you that are interested in this project and are available on that day are welcome to join us.  Keep up the great team work at Stay and Play and have fun together!!!  Joy & Bruce Stewart
Mission Planning
Part of Geoff's role this year is to work with us to develop our sense of identity and purpose. To this end we have formed team of people who will be working together in designing and driving our planning. We believe that as we share this work together we will discover where God is leading us and how we can shape our life to follow that call. It's time for us all to think and pray about what we want to contribute.
Church Directory
Sharyn is now working on this, last chance to inform her  of any changes to your current details, please telephone or email the office.
News from travelers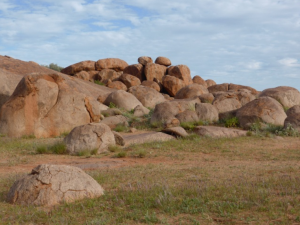 Hello Everyone
We are about to start our third week of teaching here.  It has been a great placement and we have had a lot of fun with the children as well as achieving lots of learning.  Yesterday the whole family and us went out on a picnic, checking a couple of tanks as well on the way.  Have attached a photo of the magnificent spot we had our BBQ.  Bruce and I had visited this spot before when we were here 5 years ago but the country is absolutely so green and magnificent at the moment, it was a real treat to be here again.  These wide open spaces have some very special places hiding away.
Joy & Bruce Stewart
Wider Church
For news of the wider church in South Australia and beyond please continue to use the link to UC e-news at http://sa.uca.org.au/uc-e-news/
Ignite ministries
Are having their second massive worship night next Saturday 21st May 7.00pm at the Waterside Workers Hall in Port Adelaide.  It's an opportunity for people right across the state to join together and worship as one church. This time – we have coffee, hot & iced tea and baked desserts. Bring your friends and a desire to enter in to the presence of the living God!  Our aim is to provide a space for the young adult community of Adelaide to encounter God in worship, to hear the Word preached and to experience inclusive fellowship without the barrier of denomination.  igniteadelaide.org.au
Coming Events
Live Life Loud
Uniting Church Uniting Young People. 3rd June– At various locations around the state for this high energy worship night which aims to bring local churches together to build healthy regional networks across denominations. More details on the notice board. Postcards in the foyer.
Packing Day
A big Thank You to all who have volunteered so far, but always room for more. The dates are SUNDAY 5th to TUESDAY 7th JUNE at the church. Some suggestions – Toiletries are popular within the communities, items such as soap, combs, hairbrushes, toothbrushes and toothpaste will all be welcome. (Please note no liquids though). Towels, sheets, duna covers and pillow cases would also be appreciated. Toiletries are popular within the communities. Items such as soap, combs, hairbrushes, toothbrushes and toothpaste will all be welcome. (Please note no liquids though.) Towels, sheets, duna covers and pillow cases would also be appreciated. See http://athelstonechurch.org.au/activities/packing-day/ for more details
Rosters
29th May 2016
| | | |
| --- | --- | --- |
| | 9.30am | 6.00pm |
| Flowers | Carole Walter | |
| Steward(s) & Offering | Coralie & Brenton Summers | |
| Notices | Don Brown | |
| Scripture Reader | Lee O'Connell | |
| Data Projector | Dave | |
| Sound | Don Brown | |
| Building Steward | Noel Maywald | |
| Offering Count | Bob Stevenson & Lynton Nicholas | Bernie O'Hara & Paul Howland |
| Tea & Coffee | Sheralyn R & Leanne S | O'Hara |
| Bakery Run | | O'Hara |
Bible Readings
 22nd May – Proverbs 8:1-4, 22-31, Psalm 8, Romans 5:1-5, John 16: 12-15
29th May  – 1 Kings 18: 20-21, Psalm 96, Galatians 1:1-12, Luke 7: 1-10