Sunday 22nd April 2018
Greetings and welcome to this week's newsletter
A Note from Linda
"There is a time for everything, and a season for every activity under the heavens" (Ecclesiastes 3:1)
We all experience seasons in our life – some major, some minor, some that last for years and some that last for just a few weeks.
It seems that for many of us, this is a season of weddings. There have been a number of weddings in recent months and even more to come. It is such a special time to see our grown-up children in love and to welcome their partner into our families. It can be a stressful and expensive time too! So to all of you whose children have just got married or are about to be married, we are praying for you!
It is also a time for anniversaries. A wonderful time to celebrate relationships. Paul and I will celebrate our 30th while we are away next week. We are aware that many of you have recently celebrated even more years! Congratulations to you!
Finally, it is a time for me to slow down and take a short break. So Paul and I will head off to Tasmania next week to relax and to enjoy the beauty of Creation in that wonderful part of our world.
Next week while I am away, and being a short week, we have decided to close the church office.
If you need pastoral support, please contact Brenton Summers (and don't forget that we have our prayer chain, which Brenton can help you with too!).
I'll be back on Tuesday 1st May.
Coming up in the next 2 weeks:
Sunday 22 April
AM Preacher – Rev Dr Phil Carr
PM Prayer Walk
Sunday 29 April
AM Speaker – Michael O'Connell
PM  'Slow' Night (input from Brene Brown via video followed by dinner at The Rezz)
Blessings, Linda
Doubting Thomas
Last Sunday the colouring page available at the creative tables was of Caravaggio's Doubting Thomas.
Some people have asked for a copy. Click here to print or colour it in online: http://www.supercoloring.com/pages/doubting-thomas
Church Office Closure
Please note that the Church Office will be closed until April 30, re-opening on Tuesday May 1
Spirited Sundays – 20 May
The first of our Spirited Sundays at the Rezz will be on Sunday evening 20 May at 6.30pm. Bring a friend, order a meal, then sit and engage with speaker/singer/songwriter Kylie Brice. Spirited Sundays are a new Sunday evening initiative, part of our 'S' series! this is an opportunity to engage with our local community with great speakers and great conversations. Read more about Kylie here: https://kyliebricemusic.com/

Prayer Walk  – 22 April
Our next Prayer Walk will be on Sunday evening 22nd April. Meet at Church at 6pm, prepared with torches, jackets and walking shoes for an 'Anzac' walk. All welcome.
Sounds of Silence Retreat – Saturday 19 May : The Fire Within
We'll be holding a retreat here at Church on 19 May from 3.00 to 8.00pm
Notes from Church Council
What a busy church we have been over the past month! Since Easter there have had many meetings and planning sessions to continue making progress on our mission priorities. It is excellent to see such enthusiasm and progress from so many people. Good work!
Church Council met on Tuesday night and received reports from the various Portfolio and Activity Groups, and discussed a range of matters including:
A review of our Easter services
The excellent efforts of the Pastoral Care Team in ensuring all members are contacted at times of need
Ideas coming out of Worship Team to enhance our weekly church services
Wider Mission's forward program of activities and in particular the Kiribati Fund Raising Event for Saturday 18th August at the church
Plans for our mid-year review and planning meeting in June
Church Council did not receive any applications for the interim position of Administration Support Officer. This position was an interim role whilst we are awaiting Sharyn's return from sick leave. Church Council have decided to close the office from the 22nd – 30th April whilst Linda is on leave. We then hope to re-open the office with the help of our volunteers in May. We would again like to say a huge thank you to Coralie Summers, Ann Brown, Janet Luestner and Stella Waugh for volunteering their time in the office administrator role during Sharyn's absence.
As always, please speak to your Church Council member if you require further information or have a matter that you would like Church Council to consider.
Thank you for your prayers, participation and the progress in addressing our mission priorities and the commitment to the many 'week to week' activities in and around the Church.
Hurrell's Home Group
Barbara and Eric Hurrell would like to start a new Home Group.
The preliminary meeting was on Wednesday, 18th at 7pm. For those who wish to be involved, please speak to
Barbara or Eric or email them. erichurrell@bigpond.com
Linda will be away – 22-30 April
As you may know, Linda is in a 0.8FTE part-time placement with us. To make up for extra hours worked in the lead up to and during Easter,she will be away from Sunday 22nd April to Monday 30th April inclusive.
Grace Conference
Grace Conference is an annual conference to encourage women in their faith in Christ through biblical teaching, worship, fellowship and workshops. This year's theme is "Staying Strong is The Lord" and will feature teaching on the Psalms from Chris Quirk. The conference is on Saturday May the 26th 8:45am – 3:15pm at Concordia College, Highgate. If you would like more information or to register, go to www.graceconference.org.au or talk to Victoria.
Dernancourt Uniting Church 50th Anniversary Celebrations – Sun 27 May 2018
10am Worship service – Guest Preacher Rev. Rod Dyson
Pacific (Kiribati ) inspired food – Saturday 18 August
Featuring our own 'master chef',Grant Ashby and team at 6.30pm at Church.
Proceeds to Kiribati Water Conservation Project. Brian Ball will provide more details later.
Ann and David Tubb's 50th Wedding Anniversary on Friday.
They will not be at Church this week as they are going to Kangaroo Island for a holiday, given to them by their children for their anniversary
ToFs – Tues 1 May
Our next meeting will be on Tuesday May 1st at 2pm here at the church when Mike O'Connell will share his recent experience of "Life in Bougainville, PNG".Come and enjoy listening to Mike's journey, and share a cuppa and a time of fellowship. Please feel free to invite friends and partners who will be warmly welcomed.
The Art of Curating Worship
Mark Pierson brings freshness and creativity to worship leadership. With an invitational tone and inspirational attitude, Mark encourages a reconsideration of how we frame and understand our role in preparing and leading worship. This 4-week series: May 7th, 14th, 21st and 28th 7:00 – 9:00 pm at Clayton Wesley Uniting Church- Intersection of The Parade and Portrush Road, Beulah Park $50 plus GST (includes all four sessions plus the book)
For questions please email admin@cmla.org.au or call Jenni 0422 539 028.
Packing Day – 3-5 June
We will be collecting, sorting and packing on Sunday 3rd, Monday 4th and morning of Tuesday 5th June.
Athelstone will again be packing for 4 Northern Territory coastal communities so we require summer clothing. We are looking for Men's, Girls' and Boys' jeans and slacks light weight jumpers, cardigans for all ages and gender; beanies, Manchester (cotton rugs),books, sewing aids, toys, toiletries, Good News Bibles.
Goods can be dropped at the church in the afternoon of Sunday June 3rd 12 – 4pm and Monday 4th in the morning.
If you are able to help at the church please let me know. Many Thanks Jayne Nicholas (0418 836 266)
Stay & Play Playgroup
Come and join us with your preschoolers and babies on alternate Tuesdays (even weeks of school term)
from 10:00 am to 11:30 am at Athelstone Uniting Church, cnr Fox Avenue and Kantilla Drive.
Term 2 – 8th May, 22nd May, 5th June
New helpers on the team always welcome.
For more info Contact Bruce and Joy Stewart Phone: 83362671 or Email: bruceandjoy@bigpond.com
Noticeboard
Please continue to check the notice board at the back of the church
Wider Church
Please continue to use the link to UC e-news at http://sa.uca.org.au/uc-e-news/
Electronic Giving
If you wish to use this method, application forms are available on the table in the Church foyer or speak to the Treasurer Glen Luestner for more information.
Website
Have you looked at our Website lately? We encourage you to visit. We hope you will find interesting information about us there, and by visiting, you help make our Website easier to find through Google. www.athelstonechurch.org.au
Lectionary readings
22nd April – 1 John 3:16-24, John 10:11-18
29th April – Acts 8:26-40, Psalms 22:25-31, 1 John 4:7-21, John 15: 1-8
Roster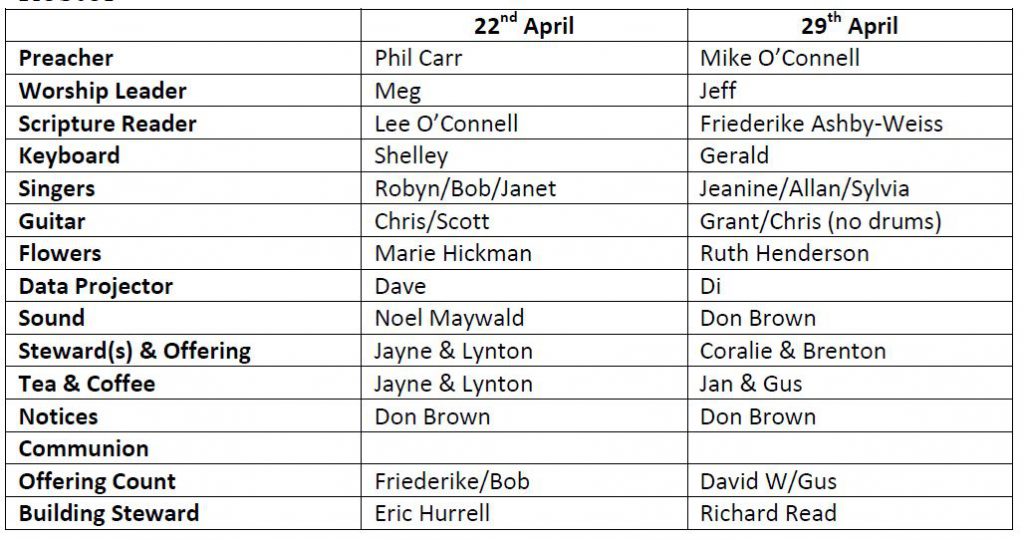 What's on this Week (23rd -29th April)