Sunday 27th May 2018

Greetings and welcome to this week's newsletter
 A Note from Linda
What a wonderful weekend we had, celebrating the Holy Spirit in a variety of ways: through a retreat, through our vibrant worship and through our new mission initiative, Spirited Sunday.  Thank you to all who helped organize and lead each of these wonderful activities and thank you to all who participated so enthusiastically!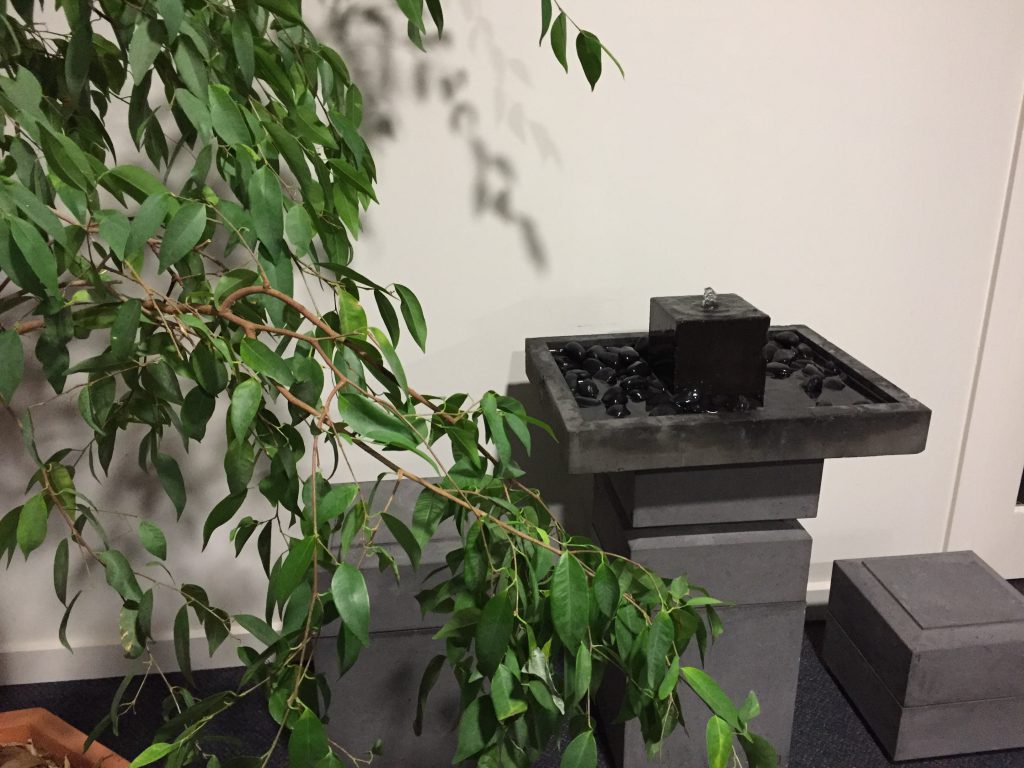 As you enter Church this Sunday you will notice some changes in our foyer. We have a new water feature, which creates a peaceful threshold as we enter the worship space.
It has been a focus of Ashford Community Hospital's Sacred Space for many years.  The Sacred Space has been the home for CPE (Clinical Pastoral Education) – a program close to Dean Brook's heart.  With the hospital undergoing renovations, the water feature needed a new home.  As a current student of CPE I heard about this and offered to provide a new home for it at Athelstone.  Many thanks to Liz Dyson, Chaplain, Ashford Hospital for making this possible.  I have given her a small donation which will go towards purchasing something to go into a new Sacred Space at Ashford when it eventually opens.            Blessings, Linda
Frontier Services Retiring Offering
Our preacher this morning service is Rev Sunil (Sunny) Kadaparambil. Sunny is the Bush Chaplain, Parkin Sturt Patrol, for Frontier Services.  You may remember reading about him in a recent issue of New Times (he was featured on the cover). Frontier Services is a mission agency of the Uniting Church.
Read more about them here: https://frontierservices.org/
To show our support for the ministry of Frontier Services, we invite you to contribute to a Retiring Offering today.
Prayer Walk – Tonight, Sunday May 27th
Join us as we walk in a different location each month in our local community, praying for the peace and wellbeing of the people of Athelstone and for the mission of our church. Meet in the church foyer at 6pm, where you'll hear a story and we'll reveal our destination. Wear warm clothing and walking shoes and bring a torch if you have one. For more information, contact Linda.

Spirited Sunday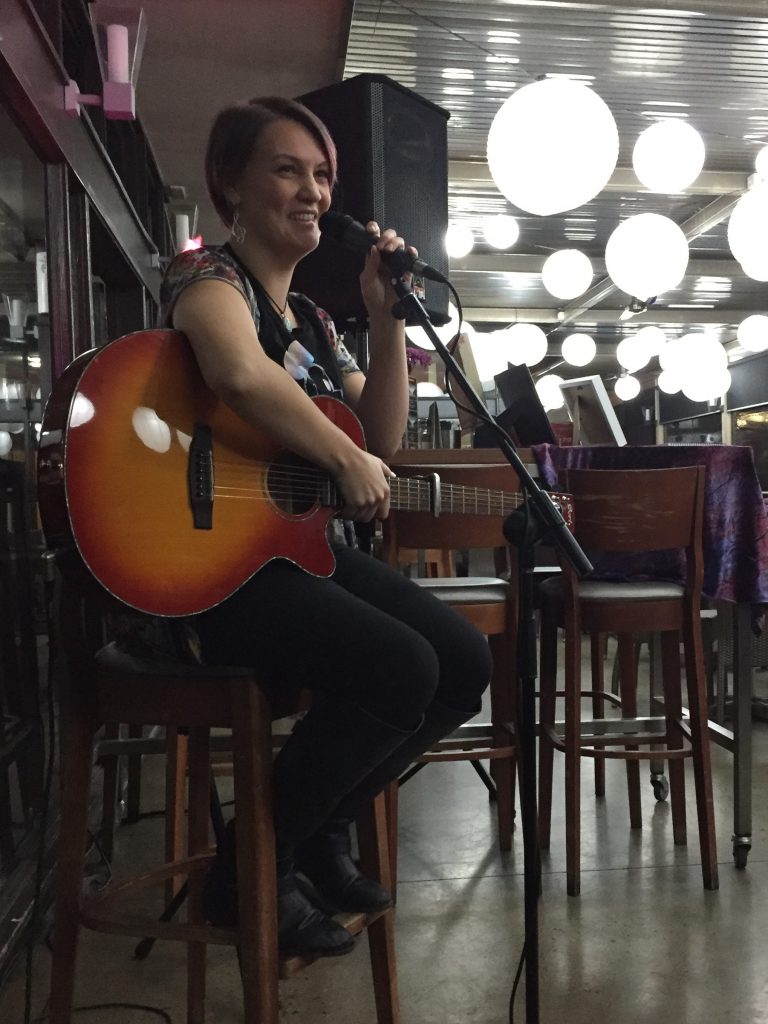 Thank you to those who came and supported this new initiative. We were all captivated by Kylie's story and songs in a sociable warm environment. Here is some of your feedback:
"Last Sunday evening at the Rezz, about 30 of us heard Kylie Brice share a little of her battle with Anxiety Disorder and Depression.  She shared how music had given voice to her struggles and released a creativity into her life that enabled her to face and overcome her demons."
"We enjoyed the night and the intimate environment that added to the soulful and touching sharing through story and song from a talented musician and story teller Kylie Brice. We look forward to the next Spirited Sunday." Jeff
"… a very special event.. enjoyed the occasion and felt encouraged and comforted by the witness. Many positive comments received from others. I'm coming to the next one." Mike.
"Very inspiring and would appeal to and be relevant to so many in the community." Melissa
Pop the next date in your diary: Sunday 17th June at 6.30, with speaker Andrew Robertson.
Taizé – visit of a Brother from the Taizé community to Adelaide: 29 May
Workshop and Prayer for Young Adults: Inexhaustible Joy
29 May: dinner at 6pm followed by a workshop and prayer service, at Brougham Place Uniting Church,
193 Brougham Place, North Adelaide.Open to 16-30 year olds. Please register by email taize.adelaide@gmail.com
Taizé Prayer – Wednesday 30 May
7:30pm at St Peter's Cathedral, 27 King William Road, North Adelaide. All are welcome.
Have you heard of Messy Church? 2nd June
Messy Church is a form of church for families that involves creativity, celebration and hospitality. It's primarily for people who don't already belong to another form of church. We are exploring offering this once a month on Sunday afternoons. If you are interested in being involved, please contact Linda and you may also like to consider exploring it further through the Messy Church State conference coming up in June:
'Messy Together' will be held on Sat.2 June from 10am-4pm at The Salvation Army, Tea Tree Gully.
Uniting Church Assembly – Melbourne 8-14 July
Please keep the upcoming 15th Triennial Meeting of the Uniting Church in Australia Assembly in your prayers. It will be held in Melbourne from 8-14 July, 2018. To find out more about what is on the agenda, go to the Assembly website here https://uniting.church/. It includes reports relating to marriage and the Royal Commission.
Man What a Meal  – 23 June
This free cooking program for men over 50, will teach you how to cook a range of simple, healthy and delicious meals over the 5 week program. Funded by the Office of the Ageing, Grants for Seniors
Starts on Sat 23rd June 2018  10am-12.30pm (includes lunch)
Dernancourt Uniting Church, 1 Vingara Drive, Dernancourt – To register contact Lisa 0400 790 438
Packing Day update 3-5 June – 1 week to go!
You now have 1 week to have a big clean out of your wardrobe and cupboards to collect items for Packing Day.
Besides clothing, the following items are also required:
Manchester – blankets, sheets, pillow cases, towels, face washers, tea towels, washable curtains, bedspreads
Toys
Toiletries
Books & magazines – adults and children, colouring in books
Sewing aids – no fabric
Items for the Old Timer's Fete in Alice Springs – all goods need to be of excellent quality, new (handmade or manufactured) – toys, jewellery, bathroom goods, crocheted blankets, aprons, Manchester, kitchen equipment, bric-a-brac
Items can be left at the back of the Church or you can bring them in on Sunday June 3 or Monday June 4.
Thank you to all the people who have offered to help with the catering requirements of Packing Day. Providing hospitality to all our volunteers is a vital aspect of  the Packing Day experience.
Also special thanks to Lee O'Connell who has volunteered to co-ordinate the catering on Sunday June 3.
We now need someone who is prepared to co-ordinate on Monday and Tuesday. Please let me know if you are able to help in this way.               Jayne Nicholas  0418836266

Stay & Play Playgroup
Last session in Term 2   –   5th June
Due to several of our helpers travelling in June, Stay and Play will not operate after the 5th June.
We will recommence in Term 3 on 31st July.
We currently have a full enrolment of 25 with 6 children on the waiting list, so new helpers on the team are always welcome.  Maybe someone would like to start a new group so we can continue our outreach in this area.    Bruce and Joy Stewart  Phone: 83362671
or bruceandjoy@bigpond.com

Uniting Communities Eastern Services
The cold winter months are with us and for many years now, the Athelstone UC congregation have been great supporters of the Uniting Communities Eastern Services office at Beulah Park by providing tinned food for distribution for those in need.  Suitable food items include tins and packets of soup, "chunky" type meals, baked beans, spaghetti and other tinned meals.  Other items including cereals, pasta and pasta sauce, and tinned vegetables are also welcome.  Please place any items on the table inside the Church and I will ensure that they are collected and taken to the Uniting Communities office.                                                 Thanks. Brenton Summers
 
Noticeboard – Please check the notice board at the back of the church

Wider Church – Please continue to use the link to UC e-news at    http://sa.uca.org.au/uc-e-news/

Electronic Giving –  Forms are available or speak to Treasurer Glen Luestner for more information.

Website –  We encourage you to visit our website.
We hope you will find interesting information about us there, and by visiting, you help make our Website  easier to find through Google. www.athelstonechurch.org.au

Lectionary readings
27th May – Isaiah 6:1-8; Psalm 29; Roman 8:12-17; John 3:1-17
3rd June  – 1 Sm 3:1-10 (11-20); Psalm 139:1-6,13-18; 2 Cor 4:5-12; Mark 2:23-3:6

Roster
| | | |
| --- | --- | --- |
| | 27th May | 3rd June |
| Preacher | Sunny Kadaparambil | Linda Driver |
| Worship Leader | Nola / Dean | Lyndon R |
| Scripture Reader | Grant Burton | David Walker |
| Keyboard | Gerald | Shelley |
| Singers | Bob/Robyn/Allan | Di/Ruth/Lynton N |
| Guitar | Chris / Scott | Chris / Grant |
| Flowers | Marie Hickman | Ruth Henderson |
| Data Projector | Di | Dave |
| Sound | Tara Shirlock | Noel Maywald |
| Door Stewards & Offering | Barbara / Eric Hurrell | Ann / David Tubb |
| Tea & Coffee | Sheralyn / Leanne | Crisi / Sam |
| Notices | Brenton Summers | Sylvia Maywald |
| Communion | | |
| Offering Count | Jeff D / Sam G | Sylvia M / Lynton N |
| Building Steward | Richard Read | Eric Hurrell |
What's on this Week   (28th May – 3rd June)
| | | | |
| --- | --- | --- | --- |
| Monday | 4.45-6.45 pm | Waratah Calisthenics Club | Auditorium |
| Tuesday | 9.15-11.15 am | Pilates | Top Hall |
| | 6.30-7.30 pm | Reach your Feat  (Stretch&Balance) | Top Hall |
| Wednesday | 6.30–8.45 pm | Waratah Calisthenics Club | Auditorium |
| | 6.30-7.30 pm | Reach your Feat (Circuit) | Top Hall |
| Thursday | 5.30-6.30 pm | Reach your Feat  (Stretch&Balance) | Top Hall |
| Friday | 9.15 – 11.15 am | Pilates | Top Hall |
| | 10am-12 pm | Friendship Club | Auditorium |
| Saturday | 9.15-11.15 am | Pilates | Top Hall |
| | 10-11am | Waratah Calisthenics Club | Auditorium |
| Sunday | 9.30 am | Worship Service | Auditorium |
| | 11am -3pm | PACKING DAY | Auditorium |
| | 6.00 pm | Evening Service | Chapel |