Jenny told me yesterday afternoon that she had read a facebook comment that indicated someone had noticed the cover of our website this week.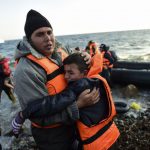 This photo is there together with the word "Demonized" and a link to this weeks gospel reading. (Luke 8:26-39)
I thought it appropriate considering that it "Refugee Week" starts next Sunday. My thinking is that demonization is a popular tool in religion and politics (which I think are the same thing) to direct debate and divert attention away from what God would have us do and be.
Identify a person or group of people in your way… exacerbate and exaggerate any points of difference. Hammer away on any weakness and flaw and suggest that its an inherent evil and existential threat that needs to be eliminated, for the good of everyone.
The person who noticed was Andrew Prior who maintains an excellent blog at One Man's Web
His article / sermon on this scripture reading can be found here.
But someone noticed. And I didn't even have to point it out. I think that's a good thing.
Andrew is much more thoughtful than I with this scripture. Perhaps I will steal some of it and see if anyone else notices.