Bible reading: Hebrews 12:1-3;  1 Thessalonians 2:9-13; Revelation 7:9-17 NIV
Continuing in a series called "The Journey of Worship". Through this series we are exploring – and growing in our understanding of – the elements of Christian worship – as we continue to foster vibrant and engaging worship here at Athelstone.
Play video: 05 Word and Creed (Malcolm Gordon "The Journey of Worship)
Towering high over the football stadium at the University of Notre Dame in Indiana, is a massive mural, called Word of Life.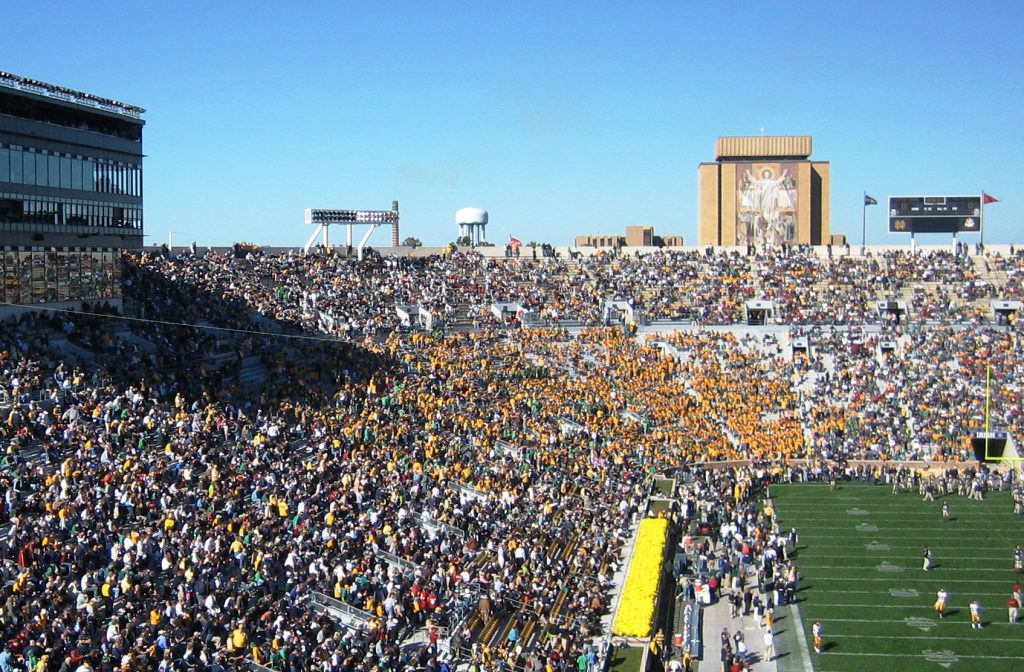 In the 1960's, artist Millard Sheets was commissioned to create an artwork to cover the southern wall of the new Library's tower.
Sheets' painting was converted into a granite mosaic.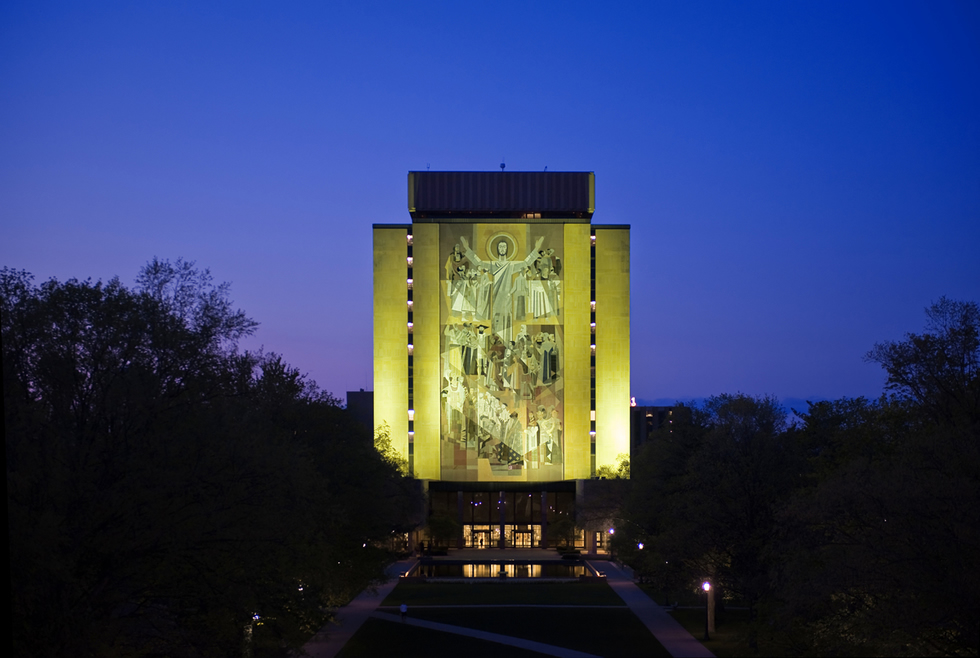 It is approximately 42 metres high by 21 metres wide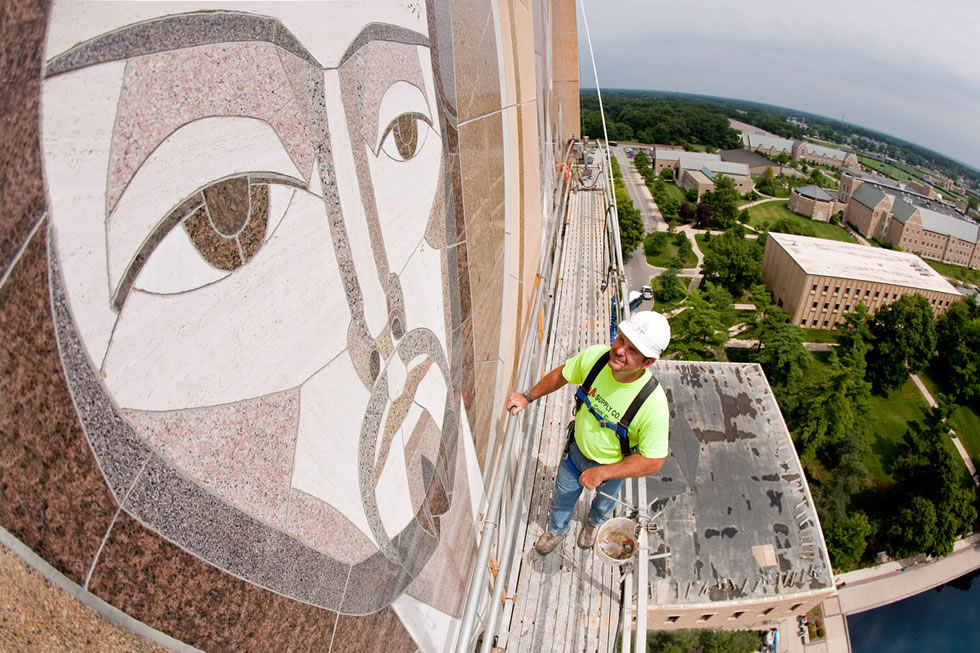 The mosaic is made up of 324 panels and 6,700 separate pieces of granite. The different colours are from 81 different types of stone sourced from 16 countries.


Jesus' arms are raised high to represent crucifixion, resurrection and blessing.
Because of its location overlooking the football stadium, students have given it the nick-name "touch down Jesus". Jesus with his arms raised up looks similar to how a referee would have their arms raised when signaling a touchdown.
Sheets explained that he was asked to suggest in a great processional the idea of a never-ending line of great scholars, thinkers and teachers – saints that represented the best that have been recorded over history, and found represented in the library. Generation after generation, with Jesus at the top with the disciples – Jesus, the great teacher.
The official name, Word of Life was inspired by John 1:1-5:
In the beginning was the Word, and the Word was with God, and the Word was God. He was in the beginning with God. All things came into being through him, and without him not one thing came into being. What has come into being in him was life, and the life was the light of all people. The light shines in the darkness, and the darkness did not overcome it.  (NRSV)
See if you can recognize in the mural any of the great teachers and prophets of the past who have continued to share the great narrative or story of God.
Stories are important, they teach us about our world, our environment, our past.
They help us understand where we fit in the world, they help us shape our own identity.
As Christians we can see ourselves fitting in to the one big story of life – God's story – told through the Bible.
Note that I said 'story' – every culture has its stories – stories that tell the history and shape the identity of its people. The Kuarna people and other first peoples of this land have stories that have been told around the campfire from generation to generation.
This is from the revised pre-amble of the Uniting Church:
When the churches that formed the Uniting Church arrived in Australia as part of the process of colonisation they entered a land that had been created and sustained by the Triune God they knew in Jesus Christ.   The First Peoples had already encountered the Creator God before the arrival of the colonisers; the Spirit was already in the land revealing God to the people through law, custom and ceremony. The same love and grace that was finally and fully revealed in Jesus Christ sustained the First Peoples and gave them particular insights into God's ways.[1]
One way we could describe the Bible  is a collection of stories passed on from generation to generation  of God's grace    as God revealed himself to his people    in different ways over time.
Malcolm Gordon talked about Word and Creed – hearing the Scriptures read, the Word preached and the Creeds recited – as a time of listening. He indicated that the first part of our worship service helps prepare us to listen.
If you liken it to the telling of a story, that's true isn't it? Before we can settle down to have a story read to us or read one to someone else, there is a time of settling down, clearing some space and making ourselves comfortable, perhaps around a campfire or a logfire  – so that we are ready to listen, and free of distractions. That's what I think Malcolm was talking about. God calls us, we respond with joy, we clear some space by confessing our sins and remembering we are forgiven, then we are ready to settle down and listen to what God has to tell us.
We began the service today with the words of Psalm 107:
Give thanks to the Lord, for he is good; his love endures forever. Let the redeemed of the Lord tell their story.
It is the telling and retelling of God's story that helps to form us as God's people.
The Hebrews passage that we heard earlier follows Hebrews 11, where the author lists many heroes of faith: Abel, Enoch, Noah, Abraham, Sarah, Isaac, Jacob, Joseph, Moses, Rahab, David and the prophets, gathering them all into a cloud of witnesses along with Jesus in chapter 12, the pioneer and perfecter of our faith to help us to persevere and not be discouraged. How many times would these stories of these people of faith been told and retold to encourage God's people?
It is through the Word today, that Jesus, the Word, speaks to us, offering encouragement, comfort, strength, hope, wisdom, joy, power, purpose, teaching, correction, and the list goes on!
Preachers have the joy and challenge of sharing the Word of God, to proclaim Christ, to teach, to disturb, to reassure, to inspire, to persuade, to challenge, to stimulate and to offer hope through Jesus.
The passage from 1 Thessalonians reinforces what happens: the Word is preached, the people believe and are encouraged, comforted and urged to live lives worthy of God.
God speaks to us, we listen and then we speak…
Through the creeds we confess our faith.
We tell the story again, a story that took quite some work to agree upon hundreds of years ago, a story that unites us as Christians across denominations across the earth.
The Uniting Church enters into this unity with the Church throughout the ages by its use of the confessions known as the Apostles' Creed and the Nicene Creed. We see these as guiding statements of our faith, to declare and to guard the right understanding of that faith.
We worship a God that we describe as Trinity – Father, Son and Holy Spirit. one in three, three in one
This is a faith to celebrate as we join in the worship of angels singing "Praise and glory and wisdom and honour and power and strength be to our God for ever and ever!"
This future hope of all of creation reconciled – a great multitude from every nation, people and language worshipping our God. All united, for Jesus the Shepherd leads them all – us all – to springs of living water.
Our beliefs – our view of the world and how we see ourselves in it – and whether there is a God and why that matters – and where we fit in the one big story – all develop over time. They are shaped by an accumulation of learning and experience.
In our time of worship, the intentional time of hearing God's Word to us and learning more about God comes through hearing the Word through the Scriptures and the Sermon and through reciting the Creeds together. We learn about the character of God, so that we can trust God more. By following Jesus we learn about the ways of God. Through the Holy Spirit we are empowered and equipped to serve God, and be part of God's plan for reconciliation – our future hope..
What do you believe?

Back in January 2014, Rev Dr John Dickson, Director of the Centre for Public Christianity, said this, using the social media platform of Twitter: He said:
Dear @hillsong, could your brilliant songwriters please put the Apostles' Creed to inspiring music. Do world-Christianity a massive favour.
Later, John explained the reasoning behind his tweet,
"I just thought a song that really was reminiscent of the Apostles' Creed, that covered its main points, would be a beautiful way of calling modern churches to reflect on the foundation of the faith that unifies us."
Cass Langton and Ben Fielding from Hillsong quickly replied that their team would 'have a go', and a little while later, Ben and Matt Crocker sat down to write a song.
Ben Fielding said:  "We took seriously what we were setting out to do; putting music to the Apostles' Creed, which for centuries has been such a revered set of words in the church. You don't want to treat it lightly. A lot of time and revision went into this song being finished."
When talking about the thought behind the structure and melody of this song, Ben explains,
"We wanted it to be embracing and translatable across all the different expressions of the Church, just as this creed has been for so many centuries."
Romans 10, says,
"If we believe in our hearts that Jesus rose from the dead and we confess with our mouths that He is Lord, we will be saved." 
Ben continues:
There is a power when what we believe in our hearts is brought together with the confession of our lips.   Every time we sing this song in our local Hillsong congregations, there is a palpable sense of unity as we sing these powerful and ancient confessions of faith.
Reflecting on the first time John heard the new song, he said,
 "It's not just a beautiful tune with good theology. It's a beautiful tune with good theology that has captured the essence of the most unifying Christian statement in world history. I can well imagine, right across the spectrum of denominations, people singing this and going, "Wow, this is the core. This is what unites us—the Father, Son, Spirit with a focus on the work of the Son on the cross for us.""
When Hillsong released the new song, their prayer was, that the song, as a musical and creative representation of the Apostles' Creed, will help bring people together; in unity with one another and ultimately with God the Father, Jesus Christ the Son, and the Holy Spirit.
As we sing we join a never-ending line of saints, scholars, thinkers, teachers, churches around the world, past, present and future, all speaking out – singing out – these unifying words of our Christian faith.
Amen
You might like to listen to the song here.

[1] https://assembly.uca.org.au/resources/covenanting/item/668-the-revised-preamble
This is an excerpt from a sermon preached Sunday November 5th 2017