We have a book group that meets regularly at the coffee shop in the Athelstone shopping centre (Indigo Espresso Cafe)
We gather there on the first and third Tuesday morning of the month to enjoy each other's company over coffee and to share our thoughts about a recent book that encourages and challenges our faith and helps equip us for Christian living .
There are usually 6 or 7 of us including our Minister.
Three of the most popular books we have explored since the group began several years ago were written by Marcus Borg: 'Jesus', and 'Speaking Christian', others have included 'Backyard Theology' and 'Food, Sex and Death' by Andrew Dutney and 'Soulstice' by Sharonne Price.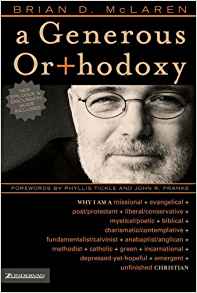 We are currently reading:
A Generous Orthodoxy by Brian D. McLaren: "By celebrating strengths of many traditions in the church (and beyond), this book will seek to communicate a "generous orthodoxy.""
You don't have to be a theologian to be part of this group – just have a willingness to explore with friends what it means to look to Jesus for a faith that enables us to witness to God in today's confusing world. Why not join us? You will be most welcome.
To find out when we're meeting next, see Coming Events.
For more information please contact Linda.