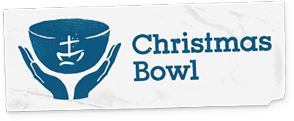 This year as we celebrate the 70th anniversary of the Christmas Bowl it's a significant time to stop and think about others less fortunate than ourselves, and to think about what we can give as we come together to celebrate the birth of Jesus.
Your gift through the Christmas Bowl will support local partners in places like Zimbabwe and South Sudan to meet urgent need and create change that lasts; equipping communities affected by conflict and disaster with the skills they need to solve their own problems and get back on their feet.
Let's give generously as we hear again the words of Jesus, "Whatever you did for one of the least of these my brothers and sisters, you did for me".
Here at Athelstone there are a number of ways we can give to the Bowl:
we can use the Bowl envelope and place our gift in the offering bag until January 5 or we may prefer to make our gift at our services on Christmas Eve or Christmas Day. Some may wish to send their gift direct to Act for Peace in Sydney.